Many people might have a sigh and wondering why their photos always look like captured down with low quality. Don't ever worry if you're using even only a cellphone camera to take photos, this might help you. Here am I going to share a tutorial about photoshop on how you going to make your photo looks clearer and nice-r
So I'd pick one of my photo randomly to show you guys.
This is the original photo, taken by Nokia N97 Carl Zesis Cellphone Camera.
Okay, here we begin the tutorial. First of all, open your image with photoshop ( I'm just using photoshop CS3 )
Second, edit your acne by using Healing Brush Tool
and you can grab any of the smooth skin and tone of color that match your skin to be 'REPLACED' to cover up your acne
Click on Alt and click on the smooth skin
and click on the acne that you going to cover it
and same with other acne
After done with your pimples, it's time to reduce noise of the photo.
Select Filter > Noise > Reduce Noise and click 'ok'
Third, we are going to make the photo looks clearer. It's easy which only involves of few steps.
-Duplicate your layer as show below and click 'ok'
and you will see this, it duplicates into 2 layers
-After that, select Image > Adjustment > Black & White and click 'ok'
-Change the 'normal' to 'overlay'
-After that change the 'opacity' that won't cause your photo looks fake
DONE!! and your photo should look like this
ps: and you can add on some words to your photo by using Type Tool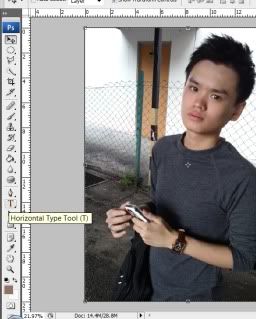 So, here is my production of it :D
It is so so easy right!? Show me yours!